Circles' $0* plan
Thu, Jun 7, 2018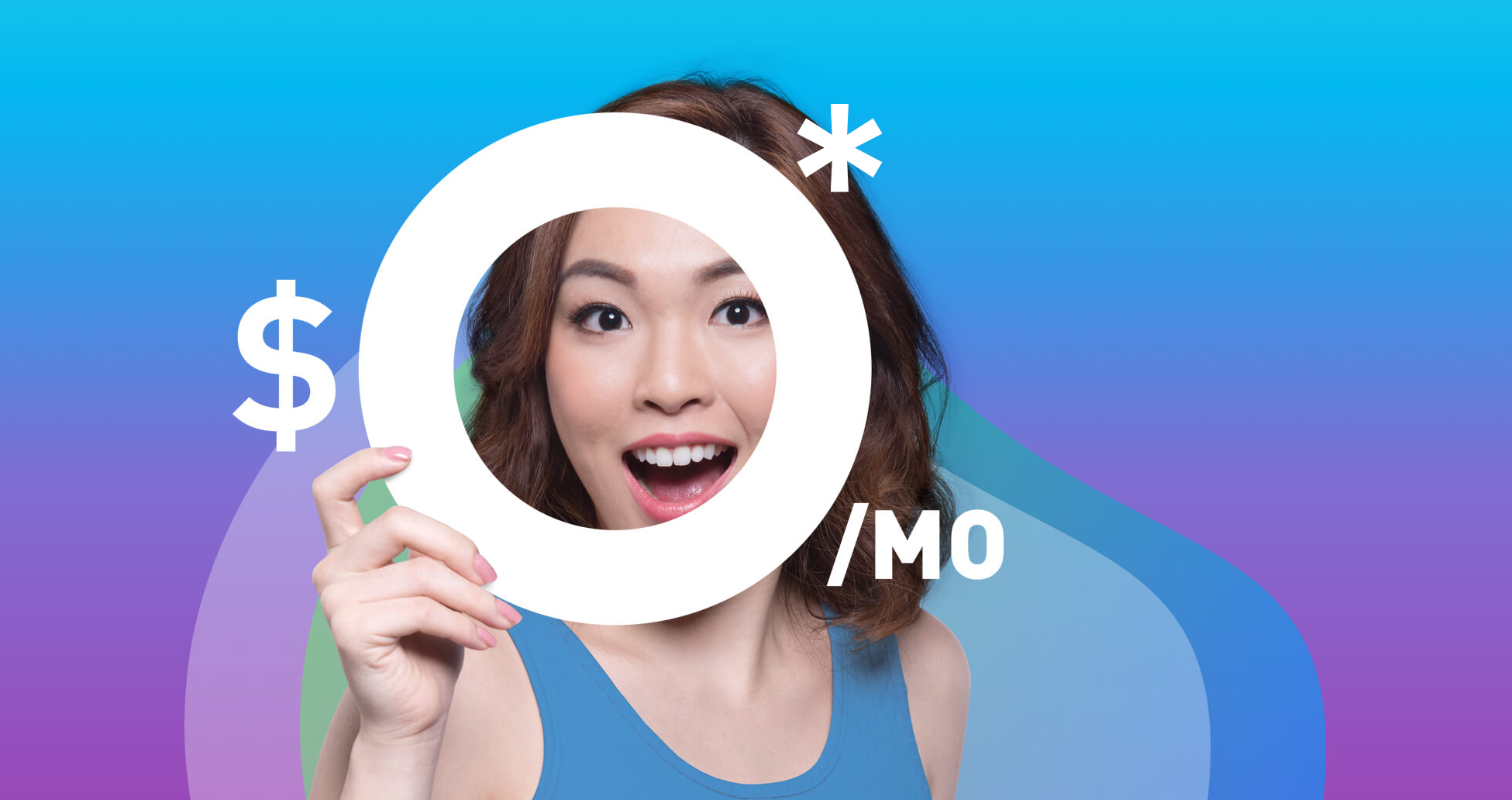 Circles.Life launched a head-turning "Flexi $0 plan" that claims that there's no catch. However, my initial experience with them did bring up some peculiarities:
There's a hidden S$6 registration fee
"Flexi" $0 plan is hidden during registration
Contradicting information about their iOS/Android CirclesCare app
---

Deviating from their "Base" $28 plan, Circles has intentionally disabled the "Flexi" plan's option to collect your SIM card for free. Initially I believed this to be a mistake, especially after reading this article by mothership.sg.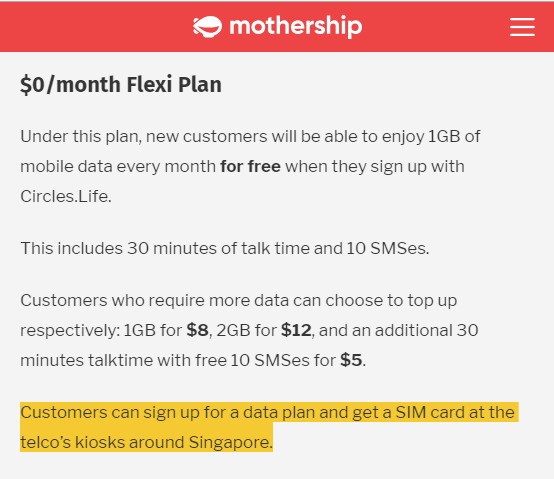 I spent a while looking for a missing self-collection option to no avail. Eventually I yielded, paid the $6, and shared my grouses on Twitter. Thankfully, Chee Aun (@cheeaun) pointed me to an enquiry he made with Circles , which then explained that the $6 was mandatory for the Flexi plan.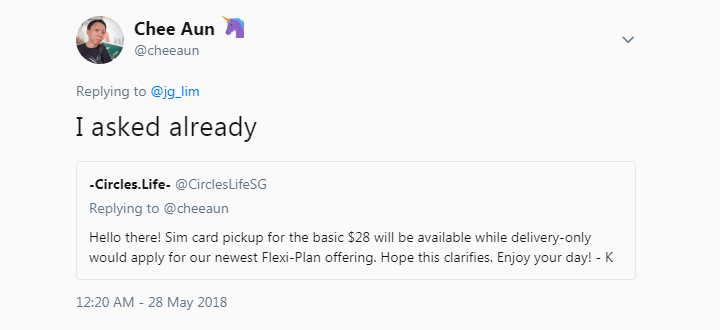 This could have been a much better experience if Circles indicated that a $6 upfront payment was required on their landing page.
---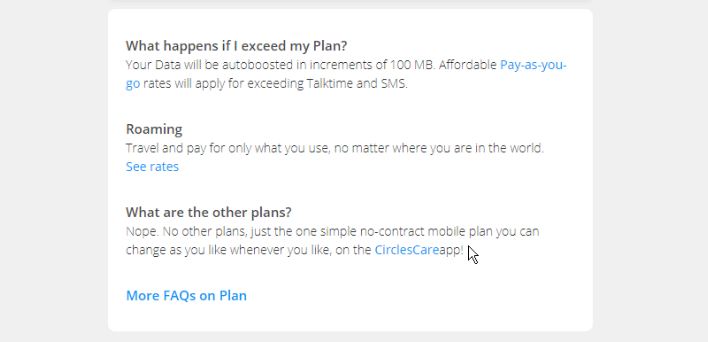 After signing up, Circles will present their "Base" $28 plan, describing itself as Circles' only plan. This occurs even if one signs up from their Flexi plan product page.
There is no option from the "Base" plan's signup page to switch to the "Flexi" plan, nor is it available in their hamburger menu. To get there again,
Click their logo on the top left (not actually shaped like a button)
Scroll down to Looking for the $0 /mo Flexi Plan?, Select Learn more
Select Get it now
---
Mixed responses about CirclesCare app
Circles has published an application "CirclesCare" on iOS and Android as a means to communicate to their customers, sell upgrades and topups, and to provide customers a method to view their usage statistics.
In their Flexi plan FAQ, an ominous line sticks out: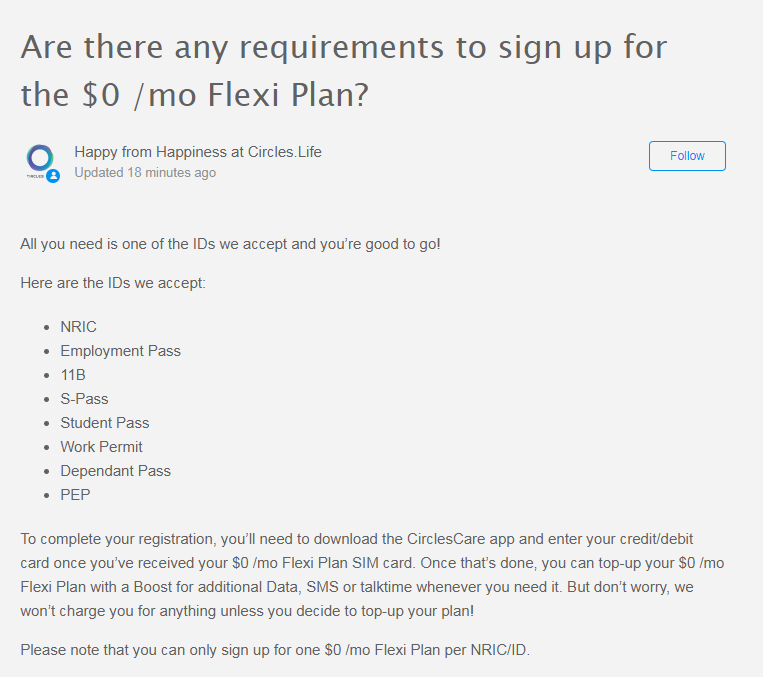 To complete your registration, you'll need to download the CirclesCare app and enter your credit/debit card once you've received your $0 /mo Flexi Plan SIM card

This is concerning for users who may be deciding to use their Flexi plan for fitness bands, watches, embedded or other IoT devices. While other mobile network operators offer similar companion apps, this is the first instance where I've seen it as a requirement to use it.
I was originally intending to use my line with a Nokia Lumia 800 (Windows Phone), which their CirclesCare app was not available on. This was the response from their customer service team regarding the issue: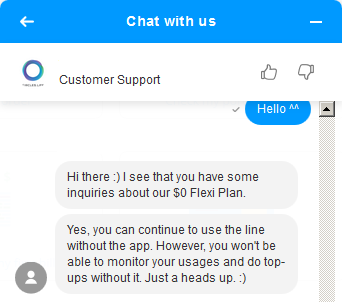 The CS rep was clear: CirclesCare was not mandatory, contrary to their FAQ. This was in line with my experience, where there was no observable issues when using the SIM immediately without prior configuration with CirclesCare. 4G cellular data, incoming and outgoing texts all worked perfectly.
Update about CirclesCare
About a week in, Circles sent an automatic email containing this line:
If you haven't already, update your credit/debit card details on the 
CirclesCare app to keep your $0 /mo Flexi Plan activated!

I reached out to them again and they assured me that no further action was required on my part.
Contacting their customer support is a fast and relatively painless process. The last time I needed help from M1, they put me on hold for over 30 minutes while their answering machine tried to upsell their latest and greatest mobile plans.
---
Does it work?
The advertised services works immediately when the SIM is inserted into a 3G-capable phone. The performance is identical to M1's offerings as the infrastructure is shared.
Technical bits
Apart from cosmetic changes, the underlying configuration is mostly inherited from M1. For example, the SIM's ICCID is prefixed with 896503 (Telecommunications / Singapore / M1).
Infrastructure
The APN is based on M1's values.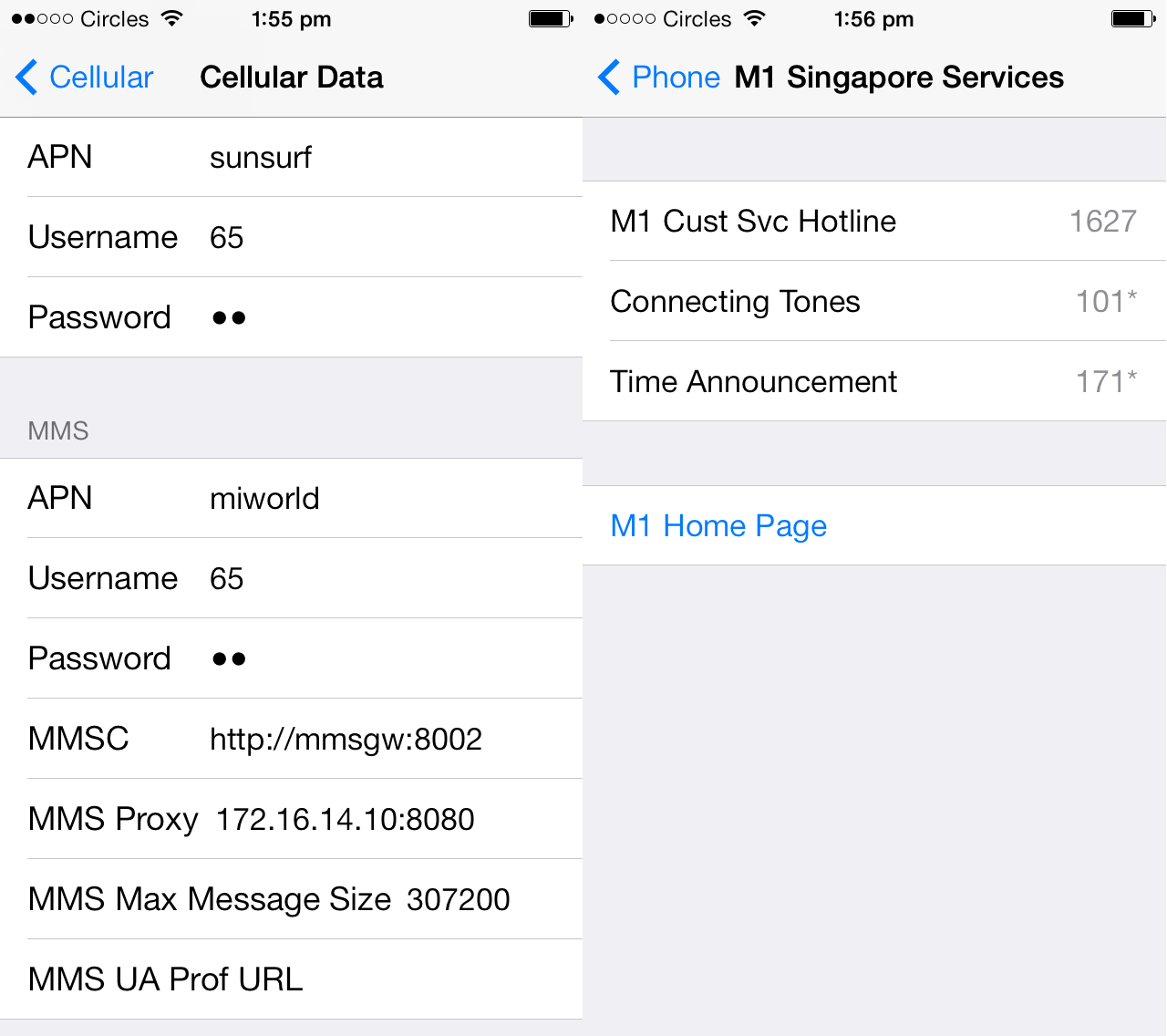 They might have run into issues while relabelling their additional services.
Number reuse
The assigned mobile number was from the 8XXXXXXX block, with no indications of recent reuse (Only 1 unsolicited call since subscription). Using popular messaging applications, I found that some neighbouring numbers are already in use.
Signatures
I only signed a single document during the entire process. The delivery personnel from Singpost/Speedpost verified my physical NRIC and had me write my name, NRIC & date of issue, and sign on a photocopy of Circles' order summary (receipt?). No contracts were signed.
---
Should I use the Flexi plan?
OPINION
Go for it if you have/need a..
Device that can benefit from cellular connectivity (iPad, watches etc.)
Secondary line for WhatsApp/WeChat/Telegram over WiFi
Secondary line with low utilization for telemarketers, spam
An alternative to a prepaid line (prepaid lines are limited to 3 per NRIC)
The primary concern about Circles' offerings is the sustainability of their "race to the bottom" operations. Phone numbers are a semi-permanent identity (much like email addresses) and there is a risk of being locked in if the loss-making Flexi plan is discontinued.
Typically for free products and services, the user is the product. Circles does not appear to be in the business of selling data, and I am inclined to believe that they intended this to be an onboarding and marketing exercise which has a limited longevity.
Transparency as a carrier
I believe that Circles should have been upfront with their $6 fee:
It is not expensive for a one-time registration fee
The fee helps them filter in customers who are willing to pay, and also collects valid billing details
It a relatively minor hurdle for customers, but should reduce fraud and abuse on their end
Circles' intent to hide that fee subjects them to unnecessary scrutiny. I would like to believe that this issue (along with the hidden Flexi plan and contradicting CirclesCare issues) are simply careless mistakes in the QA department.
CirclesCare
If a system can operate just fine as a web application, then there's no excuse for having it as a mobile-only application. I don't want notifications, nor do I want my contacts, location data, usage information and other "telemetry" to be accessed.
Circles probably already has a decent API endpoint for their mobile applications, and I hope they will put up a simple webpage for customers to access their essential features.
---
I recently got a used iPhone 5C and set it up to forward OTPs to Telegram, and subsequently to my desktop. Security issues aside, it's working great so far!
---
Did I miss something out? Let me know